Company Profile
Thai Pure Coconut Co., Ltd has been established since 2004 in order to manufacture and distribute natural virgin coconut oil 100% and unrefined coconut cooking oil 100% both in domestic and international markets. Our cold pressed virgin coconut oil is produced by centrifuge separation process in 5 miniutes time oil, entirely chemical-free. Therefore, the outcome is truly pure, virgin, clean, and safe without any additives and antioxidant substances. With the centrifuge process, all the essential nutrients of coconut oil are preserved completely and perfectly, such as Vitamin E, Lauric Acid, and Monolaurin. With regard to our current production capacity, the averaged is around 100,000  litres/month each of them and can reach to 150,000 liters/ month each of them as the highest capacity in this time.
From our experiences in term of a leader of cold pressed virgin coconut oil manufacturer ,with the centrifuge process , combined with our strictness in manufacturing standard controlling, we keep in developing and improving our products to serve the market's needs continuously under our philosophy that " Providing a beyond satisfaction for customers with the highest standard and perpetually improvement." Currently, only 5 minutes for us are enough to transform fresh coconut milk into virgin coconut oil. With this quick action, the coconut oil is still able to maintain and preserve all the necessary substances superbly. Not only this but this quick action also prevents undesirable chemical reactions which side effects can be rancidity and strong-smelling.  Our coconut oil is clear and transparent like pure water, with a low viscosity, and no rancidity nor sour-smelling. Conversely, our coconut contains a light and pleasant smell of coconut. This oil is easily absorbed by human skin without the glutinous or sticky feeling.
Moreover, our cold pressed virgin coconut oil is able to use in various kinds of industry, for example, food, medical, cosmetic, and spa products as well.     
As mentioned, we have been conducting R&D substantially since starting up; as a result, we are going to extract only Lauric Acid which contains in the coconut oil. The Lauric itself has a qualification close to human breast milk for helping stimulate the immune system in our body.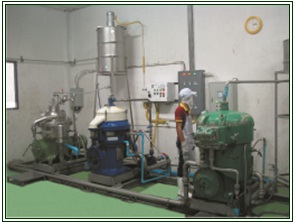 We vouch for domestic and international guarantee and certification standard norms. These are composed of GMP and HACCP Standards, from MOODY INTERNATIONAL  Institution, as well as, the Guarantee and certificate received from Food and Drug Administration and The Central Islamic Council of Thailand (CICOT).  In addition, we won the prize from National Innovation Agency (NIA) of Ministry of Science and Technology also.  
If you are customers interested in our product and would like to have some samples, please do not hesitate to contact us via email at musix66@gmail.com . It is our pleasure to provide free samples but postage must be charged to the customer. However, the freight and delivery expenses can be deducted from the invoice when the transaction has really occurred.